Star Scientific
I had the opportunity to work on a lot of things at Ogilvy but one project I really enjoyed working on was for was for a client called Star Scientific. They wanted to raise their profile from respected nuclear scientists to alternative energy providers (hydrogen), and I was brought on board to help them achieve this goal.
After meeting with the clients, I began by formulating their target audiences and finding a balance between their requests and what the audience would expect. From there, I developed a wireframe and basic style guide based on their existing brand identity. I then built a bespoke website using WordPress as the CMS, using a 12-column bootstrap grid to ensure consistency across screen sizes.
The client was happy with the site and the accompanying content plan and rollout. The site and campaign targeted energy providers, federal and state politicians, and competitors in the marketplace and led to the conversations people are now having around hydrogen and the opportunities it provides for Australia
This project allowed me to showcase my expertise in website development and branding, as well as my ability to collaborate with clients and deliver results that meet their goals.
Site and content map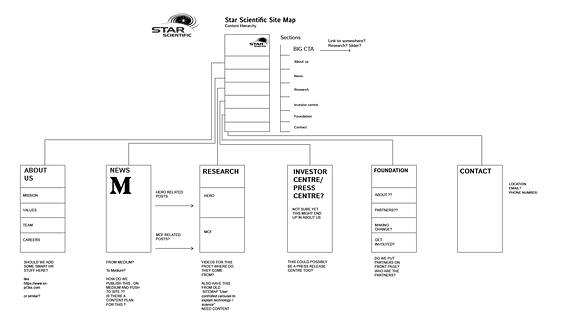 Web site